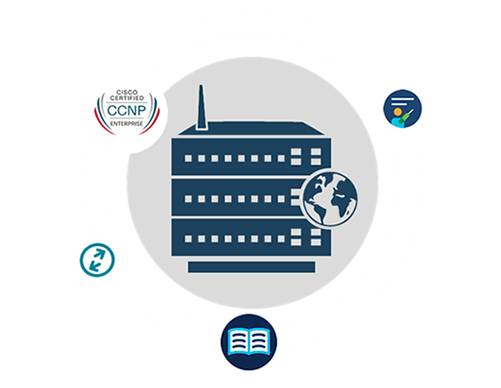 PACK EXPERT
CCNP ENTERPRISE
Sabatino (09:00 am - 04:00 pm)
Modalidad Online en vivo
INICIO: 10 DE JUNIO
El programa de certificación CCNP Enterprise le brinda al participante exactamente esa amplitud y profundidad. La certificación CCNP Enterprise se diseñó para ayudarlo a demostrar sus habilidades en el panorama en constante cambio de las tecnologías de redes empresariales. La certificación cubre tecnologías centrales y un área de enfoque empresarial de su elección.
CARACTERÍSTICAS:
• Profesores certificados a nivel internacional por Cisco.
• Materiales, manuales e información oficial Cisco.
• Acceso a labs en NETACAD.
• Sesiones de prácticas.
• Certificación por asistencia.
• Certificados por aprobación y excelencia.
• Grabaciones para repaso.
• Soporte técnico, equipo de orientación y personal de apoyo.
• Curso especial: ITIL Foundations V4
• Curso especial: SCRUM
ENARSI: Implementing Cisco Enterprise Advanced Routing and Services
Enfocado en la implementación y resolución de problemas de enrutamiento y redistribución avanzados para Open Shortest Path First (OSPF), Enhanced Interior Gateway Routing Protocol (EIGRP) y Border Gateway Protocol (BGP) junto con tecnologías VPN, seguridad de infraestructura y herramientas de administración utilizadas en empresas.
• IPv4 and IPv6 Addressing and Routing Review
• EIGRP
• Advanced EIGRP
• Troubleshooting EIGRP
• EIGRPv6
• OSPF
• Advanced OSPF Configuration
• Troubleshooting OSPFv2
• OSPFv3
• Troubleshooting OSPFv3 and Address Families
• BGP
• Advanced BGP
• BGP Best Path Selection
• Troubleshooting BGP
• Route Maps and Policy Based Routing
• Redistribution
• Troubleshooting Redistribution
• VRFs, MPLS and MPLS Layer 3 VPNs
• Dynamic Multipoint VPN
• Securing DMVPN Tunnels
• Troubleshooting IPv4 and IPv6 ACLs and Prefix Lists
• Infrastructure Security
• Device Management and Tools troubleshooting
ENCORE: Implementing and Operating Cisco Enterprise Network Core Technologies
El curso amplía su comprensión arquitectónica y profundiza sus habilidades de implementación requeridas por las redes empresariales. Este segundo curso de la serie CCNP Enterprise cubre temas de conmutación, enrutamiento, conexión inalámbrica y seguridad, junto con las tecnologías que admiten redes programables definidas por software.
• Packet Forwarding
• Spanning Tree Protocol
• Advanced Spanning Tree
• Multiple Spanning Tree Protocol
• VLAN Trunks and EtherChannel Bundles
• IP Routing Essentials
• EIGRP
• OSPF
• Advanced OSPF
• OSPRv3
• BGP
• Advanced BGP
• Multicast
• Quality of Service
• IP Services
• Overlay Tunnels
• Wireless Signals and Modulation
• Wireless Architecture Infrastructure
• Understanding Wireless Roaming, Location Services
• Wireless Security Authenticating Wireless Clients
• Wireless Troubleshooting – Wireless Connectivity
• Enterprise Network Architecture
• Fabric SDN Technologies
• Network Assurance
• Secure Access Control
• Network Device Access Control and Infrastructure Security
• Virtualization
• Foundational Network Programmability Concepts
• Introduction to Automation Tools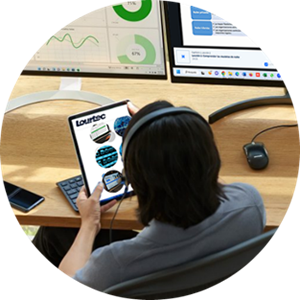 NUESTRO OBJETIVO:
Ayudar a profesionales de tecnología de información a alcanzar sus metas laborales, profesionales y económicas por medio de entrenamientos especiales de alto nivel, logrando beneficios para sus familias, las empresas y la sociedad.
¿POR QUÉ INVERTIR EN LOURTEC?
Viene una etapa de gran competencia por puestos de trabajos, lo cual se convierte en desempleo para muchos y grandes oportunidades para otros. Construimos un programa a tu alcance basado en las mejores tecnologías más demandadas en el actual mercado.
 Contacta directamente a uno de nuestros asesores dispuestos a darte
el servicio y la calidad que mereces.
¿Qué estas esperando para avanzar profesionalmente en el mundo de las telecomunicaciones?